For manufacturers to succeed in the LED market, using standardized components and increasing LED product efficacy and C/P ratio is important in ensuring products can meet client demands, said Andy Man, Vice President, Asia, Bridgelux at LEDforum 2015 in Guangzhou, China. Main organizers of the forum that took place on June 11, 2015 include LEDinside, CNLEDw.com, and Guangzhou Guangya Messe Frankfurt.
The semiconductor industry's revolution has been driven by innovation and packaging technologies, said Man. Another driver has been client experience and changes in color technology, said Man.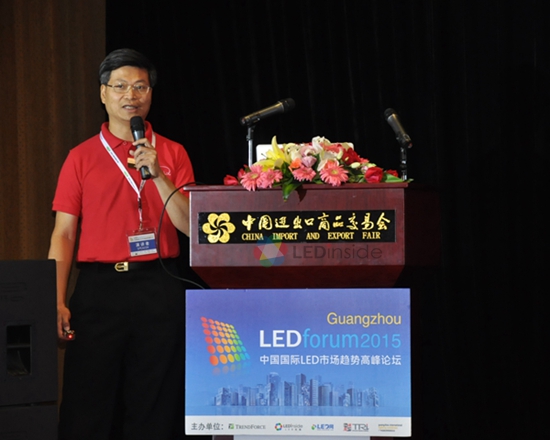 Andy Man, Vice President, Asia, Bridgelux during his presentation at LEDforum 2015. (LEDinside)
In the LED chip technology sector, face-up LED chips basically is a light emitting chip that is suitable for COB applications. However, this technology is limited by P and N polar wire bonding, and tends to deliver poor performances when driven under high currents. In contrast, flip chip LED advantages include low electricity resistance, low voltage, and can be driven under high voltages, but requires special soldering techniques. Advantages of vertical LED chips on the other hand is low voltages, low currents and low costs. Vertical LED chips also has visible advantages in mass scale production. It's shortcoming, though, is surface emissivity.
Flaws in face-up LED chip, flip chips and vertical chips led to the emergence of a new silicon-based LED chips. These chips have excellent luminous efficacy and cost advantages. Due to its larger size and capacity to add new features, it can create new product concepts and features. Silicon-based LED chips is a field that Bridgelux is fairly optimistic about.
Good technology is essential to meet end-users demands and are "human centric". In Man's speech he noted second generation lighting is placing increasing emphasis on lighting and quality. Lighting products have moved from offering basic features to offering emotional experience that places increasing emphasis on whether the lighting is comfortable and has good color saturation. These in turn have led to pixels and Gamut Area Index (GAI) demands.
In addition, Man noted smart lighting controls is a large and rapidly growing market where everyone is trying to grab a piece of the pie. Manufacturers should offer innovate product concepts and features, for instance by combining light sources with light sources and communications to make a smart lighting platform. This can help manufacturers realize product features and experience emotional lighting.
Smart lighting has become much more than light sources, with features extending into bilateral control, data feedback, self-diagnosis, and can be paired with different software and sensors. From circuit control during its early development phase to using wierelss control in IoT applications, and smart lighting's open and innovative standards has allowed it to gradually penetrate the market.